Experience the Best Dental Cleaning in Tucson, AZ
At Smile Perfection, we offer the best dental cleaning in Tucson, AZ. Our track record stretches back over 40 years, with Dr. Sharad Pandhi providing exceptional oral care to the community using advanced dental technology and a compassionate approach. Countless residents have trusted us with their smiles, and we invite you to do the same. Explore our range of personalized dental services and learn why we are Tucson's go-to dental practice. 
Preserve the health and beauty of your smile today – book your dental cleaning appointment with us now!
Why Choose Smile Perfection
No one preserves your smile's health and beauty better than Smile Perfection. We've established a firm reputation within the Tucson community for delivering superior dental services, including dental cleaning. In addition to our reputation, these are two reasons why we're the top choice for Tucson residents: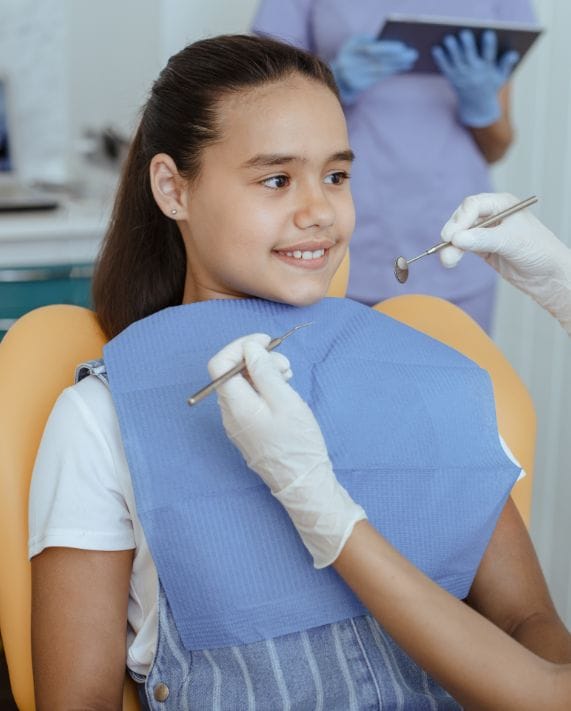 A Beacon of Dental Excellence
As one of Tucson's oldest and most trusted dental practices, Smile Perfection has set the standard for top-quality oral health care. For over four decades, we've been ingrained in the fabric of this community, helping people from all walks of life achieve their perfect smile. Here's what makes us stand out:
Long-standing presence:

Since our inception 42 years ago, we've served the Tucson community with unwavering dedication and commitment. Over the years, we've witnessed the transformation of our city and its residents' smiles.

State-of-the-art technology:

At Smile Perfection, we don't just keep up with advancements in dental technology; we embrace them. We consistently invest in the latest equipment and techniques, delivering only the best dental cleaning services.

Tailored dental care:

We understand that every smile and its dental needs are unique. That's why we offer

general dentistry services

crafted to meet your specific oral health requirements.
Leading our dental practice is Dr. Sharad Pandhi, a pillar of expertise, compassion, and dedication. As the face of Smile Perfection, Dr. Pandhi's credentials and commitment to patient care are unrivaled:
Experience and expertise:

Dr. Pandhi brings over 42 years of rich dental expertise to our practice. His profound knowledge and mastery of dental procedures and

screenings

have earned him the trust and admiration of many Tucson residents.

Patient-focused approach:

Dr. Pandhi believes in placing the patient at the center of all dental services. He takes the time to understand each patient's needs and concerns, ensuring they receive the best care possible.

Continual learning: Dr. Pandhi stays updated on the latest in dental research and technology, bringing new advancements to our practice to benefit our patients.
Our Teeth Cleaning Process
We utilize advanced equipment for precision, accuracy, and the highest level of hygiene. The result? A swift, thorough, and comfortable cleaning experience, ensuring a cleaner, healthier, and radiant smile.
Every dental cleaning session at Smile Perfection starts with a comprehensive pre-cleaning examination. This crucial stage allows us to understand your unique dental health and tailor the cleaning process to your needs. Here's what happens:
Oral examination: Dr. Pandhi will thoroughly assess your mouth to check for signs of oral health issues like gum disease, cavities, or oral cancer.
X-rays: If necessary, we'll take detailed X-rays of your teeth to identify hidden problems not visible during the oral examination.
Customized cleaning plan: Dr. Pandhi will create a personalized cleaning plan to address your dental needs based on your oral examination and X-rays.
Once your dental health has been evaluated, we'll move on to the heart of the dental cleaning process: scaling and polishing. Here's what this entails:
Scaling: Using an ultrasonic scaler, Dr. Pandhi will gently remove plaque and tartar deposits that cling to your teeth surfaces and gum line. The scaler's vibrations dislodge these deposits while a stream of water flushes them away.
Polishing: After scaling, your teeth will be polished using a special paste. This process helps smooth the surfaces of your teeth, making it harder for plaque to accumulate before your next cleaning.
The Difference a Smile Perfection Dental Cleaning Makes
Beyond a sparkling smile, regular dental cleanings and teeth whitening procedures at Smile Perfection contribute to a rich oral health landscape. Here are some of the key benefits our patients enjoy:
Safety Measures at Smile Perfection During Professional Teeth Cleaning
At Smile Perfection, your safety and comfort are our utmost priorities. Our dental office maintains rigorous safety standards throughout the dental cleaning process to ensure a seamless, comfortable experience.
Adherence to Stringent Safety Protocols
Sterilization of instruments:

All dental instruments, treatment rooms, and common areas are thoroughly sterilized before each use to eliminate the risk of infection.

Use of personal protective equipment:

Our team, including Dr. Pandhi and our dental hygienist, wears appropriate

personal protective equipment

(PPE), such as gloves, masks, and eyewear for your protection.
Assurance of a Safe and Comfortable Dental Cleaning Experience
Gentle approach: Dr. Pandhi's patient-focused approach means your comfort is our priority. We ensure each step of your dental cleaning, from examination to scaling and polishing, is performed gently to minimize discomfort.

Personalized care: We recognize each patient's unique needs and sensitivities. Dr. Pandhi will work closely with you to understand your concerns or fears and address them accordingly, ensuring a stress-free experience.

Emergency readiness: Rest assured, we are fully equipped and trained to handle any potential emergencies during the cleaning process.
Secure Your Teeth Cleaning Appointments in Tucson, AZ, Now ​
With Smile Perfection's dental cleaning service in Tucson, AZ, you can access over four decades of dental expertise, the latest technology, and personalized care tailored to your needs.
Discover your smile's true potential –– contact us to schedule your dental cleaning appointment.